Foresights Workshop on 'Law a­nd Artificial Intelligence' in association with the University of Cambridge Centre for Business Research (CBR)
As part of the international research project "Legal Systems and Artificial Intelligence" led by Professor Mihoko Sumida, Hitotsubashi University Graduate School of Law, members of the WP1 "Future Scenarios of Legal Systems and Artificial Intelligence Research Group" travelled to the UK and together with research members from the University of Cambridge, held a Foresights Workshop with the agenda "The Future of Work and Labour Law".
In addition to Professor Sumida, the members who travelled to the UK this time included Professor Yuichi Washida of Hitotsubashi University's Graduate School of Business Administration, who is the WP1 group leader and a leading expert on Horizon Scanning workshops; Associate Professor Wataru Uehara of the same university, who is leading the creation of the future scenarios; and Associate Professor Chikako Kanki of the University of Tokyo's Graduate Schools for Law and Politics, who has contributed greatly to the creation of the future scenarios for labour law, and Ryutaro Obara, a graduate of the University's Law Faculty who is active in legal tech and business law (Nakamura Tsunoda & Matsumoto, visiting researcher at the Graduate School of Law in 2023).
The leader of the University of Cambridge side of the host, Professor Simon Deakin, Director of the Centre for Business Research, is also known as a world authority on labour law. Professor Deakin had thoughtfully considered the diversity of the workshop participants, and the 32 selected members were well suited to discuss "The Future of Work and Labour Law". Among them were HR professionals from Cambridge University HQ, HR management researchers from the Judge Business School at Cambridge University, computer labs, business schools and law academics from Cambridge and Oxford Universities, as well as designers working in legal tech, business executives in the UK and executives of the European Trade Union Institute operating in Brussels.
During the morning, the participants were divided into three groups, and based on the Scanning Material distributed a week earlier, which was a collection of fragmentary news items containing hints of the future, they spun out a 'social change hypothesis' as a group. The key to this was to break out of the usual framework of expert thinking and connect the fragmented information freely to formulate a hypothesis. The group's social change hypotheses were then presented, and questionnaires were conducted to find out if they were likely to be realised in the near future – 'strongly agree', 'agree', 'not so much agree', 'not at all agree', etc. – and to derive a 'social change hypothesis' for the UK.
In the afternoon, the orientation changed completely, with a group discussion on the Future Issue of Work and Labour Law. To switch the way of thinking, an animation containing three scenarios on "The Future of Work and Labour Law", created by the Japanese team over a period of more than two years, was shown, followed by an explanation of the background to the animation by Prof Chikako Kanki, which got the audience really excited.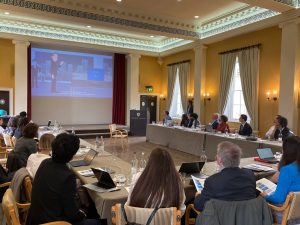 The animation "2030:workplace conflicts and AI in the future" can be viewed here. ↓
 https://drive.google.com/drive/folders/1LUvBr-ptVgs1aSNE5xmc6WrKnN5uJEsI?usp=share_link
●Comment on future scenario animation  Associate Professor Chikako Kanki (The University of Tokyo)
[Scenario 1]
Scenario 1 raises the problem of personnel evaluation by AI. This kind of personnel evaluation method might have been adopted in  some workplaces already.
The European Union is proceeding with the enactment of regulations to restrict and regulate the use of AI systems according to the degree of its risk. The regulations will classify the use of AI systems in the workplace to be a high-risk AI system, such as for interview evaluation, promotion or contract termination decisions, performance appraisal and behavior monitoring, as those in this scenario. Data governance and record keeping, and human monitoring are critical for using such a high-risk AI system. For this reason, AI providers will be obliged to perform quality control, maintain automatically generated logs, and disclose information related to the algorithms that they use. Especially, AI providers must undergo a third-party conformity assessment in advance.
In Japan, we have no such regulation at this moment. However, if the European Regulation comes into force, in 2023 or in 2024, if a business provides an AI system or service targeting people in the EU, even just using the output of AI, it will be subject to this regulation. Its violation could end up with huge number of fines and the loss of their businesses. The regulations of AI system around the world might progress in line with the trends of the EU. No more victims like Mr. Suzuki? However, some said it would be impossible to license all AI systems.
By the way, this scenario may seem a little bit weird to audiences from other regions due to the special employment practices in Japan. Especially in large Japanese companies, long-term employment, which was once called lifetime employment, is usually planned, and young people who have just graduated from university with almost no skills are preferably hired. Employees are assigned work under the order of the employer and given experience in various positions, and promoted internally, I mean in the same company. Since they don't hire people based on their skills or qualifications, the evaluation often includes abstract or subjective factors, such as the level of the university they graduated from, and how loyal they are to the company.
In addition, salaries and other benefits are gradually increased based on experience and length of service, rather than based on the current position. In many Japanese companies, the salaries of regular employees differ from person to person whatever they do. Personal evaluation is not just literally, but substantially, personal.
Therefore, it is more likely for people to be underpaid at a younger age and receive higher salaries than the results they have achieved in their middle and elder age, which is the situation that young people sometimes feel frustrated about. That is why this scenario shows a conflict between young people and middle-aged and elderly people. That might be quite different in other countries.
[Scenario 2]
Scenario 2 deals with the problem of freelance gig workers. It's already happening now, we first thought it might happen much later.
In general, freelancers who undertake work by themselves are vulnerable in the labor market. Problems such as non-payment of remuneration and harassment frequently occur. In lawsuits, these issues are disputed as violations of the employer's duty of care and safety and claims for damages are recognized as breach of contract or tort. The duty of care is interpreted as an implied term not only in contracts of employment but also in freelance contracts. However, it's not easy to sue someone you do business with. That's why special regulations are needed for freelancers.
There might be three directions. First, if a freelance contract in form is in fact an employment contract, it may be possible to treat the worker as an employee and apply existing employment law protections. This is not a new regulation, but a correction of a misclassification.
Second, for those freelancers who are close to workers, it is possible to extend regulations like protections for employees, while maintaining their status. For example, Japan has established a special enrollment system for certain self-employed workers, such as those engaged in food delivery services, for workers' compensation insurance, which is public compensation for work-related injuries to workers. However, in other countries such as the UK, work-related accidents might not be covered by social insurance, and there is no distinction between workers and employees regarding work-related accidents. Scenarios would be different depending on each legal system.
Third, from the viewpoint of promoting fair competition, strengthening fair trade between businesses is an option. In particular, when there is a difference in bargaining power between business parties, regulations that restrict abuse of a dominant bargaining position can be effective.
However, hard regulations may cause massive job loss for freelancers. Employers are completely free to use AI instead of humans. Even so, in many countries where the birth rate is declining and the population is aging rapidly, it may be good news to solve the labor shortage. Looking at the use of image-generating AI or ChatGPT, the disappearing jobs may not be the routine jobs as we previously thought, but more creative and professional jobs. Will humans be able to be the master of AI?
[Scenario 3]
Scenario 3 depicts the problems of unions and the Labor Relations Commission. In Japan, we do not have industry-based unions like those seen in European countries, and 90% of the unions are company-based unions. A union organized on a company-basis has the same interests as the company, because all the union members are employees of the company. In other words, it's quite usual for unions to work together for the common purpose of maintaining the profits of their companies and compromise on improving working conditions in order to maintaining job positions. Since last year, strikes in the UK have resulted in an astonishing 900,000 workdays lost per month. Japan loses only 30 working days in a year. Japanese unions have long been criticized for being ineffective, but the situation has not changed.
The Labor Relations Commission is an administrative body for collective labor dispute resolution. This is modeled after the National Labor Relations Board in the United States, and when there is a claim about unfair labor practices, it conducts investigations and hearings and issues relief orders. It is an organization of the two-tier system in each prefecture and the central government. However, its jurisdiction is limited to give remedy for unfair labor practices (which are the following three types of acts: (1) disadvantageous treatment, (2) unreasonable refusal of collective bargaining, and (3) controlling or interfering with the autonomy of trade unions), so it has not been able to adequately deal with diversifying labor disputes nowadays.
Still, there is no other recourse available. Workers join unions after being fired and even claim discrimination because of their union membership, which doesn't seem to make sense. There have been suggestions to expand the powers of Labor Relation Commissions, but we envisioned a new platform for dispute resolution, instead.
There have already been plenty of platforms at the initiative of businesses. It would be a nice idea to have a platform that connects workers. This scenario is inspired by the activities of an organization in the UK called "Organise". In addition to traditional industrial action, it would be possible to gather the knowledge of various kinds of experts and voices of workers to improve their terms and conditions. It may be helpful to have a function to check the appropriateness of the algorithm used by the company on behalf of workers.
For Japan, where worker's solidarity beyond companies is weak, this could be truly the third way. How does this situation look from your own perspective? (End)
Based on the animation, the group was again divided into three groups to discuss the future scenario/UK version in more depth, and the afternoon discussions also became more heated, based on empathy with the characters in the animation. The workshop concluded with the introduction of each group's discussion and the participants dispersed.
The enthusiasm remained high even after the workshop had finished, and a group photograph was even taken at the end of the workshop. The expressions on the participants' faces were very impressive, as they felt pleasantly exhausted after a full day of discussion!
Text Written by Mihoko Sumida